Welcome

Our Commitment to You
Farmers Trust & Savings Bank (FTSB) has a long-standing commitment of service to the Williamsburg, Iowa community and surrounding area. As the largest locally owned and managed bank in Iowa County, we make our decisions here. Our financial strength, strong capital position and experienced staff allow us to provide competitive bank products and the small town service and friendliness you expect and deserve.
Our Bank Building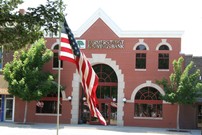 Since our founding in 1890, our head quarters has been in the same location on the West Side of the Williamsburg Square. Our present building was built in 1968. It took the place of two storefronts: the former bank building and the old Post Office. In 1976, the Bank constructed an addition which enclosed the remaining open space to the alley. 18 years later, in 1994, a major facelift and update featuring a new brick exterior to match the historic nature of the other buildings on the square was completed. In 1998, the drive-up behind the Bank was transformed to two lanes, a drive-up ATM was added and the employee parking lot was paved. FTSB completed its most recent remodel in December 2012. Prior to initiating this project, many customers, business partners and visitors thought we had recently remodeled. However, after 18 years, if you knew where to look, it was time to update. Plus, there were operational changes we wanted to make to improve how we deliver our services. Unbelievably, all these projects have been done by the same architectural firm out of St. Louis! Of interest, the architect for our most recent project also oversaw our 1976 project. This was his last project before he retired.
Innovative and Up-To-Date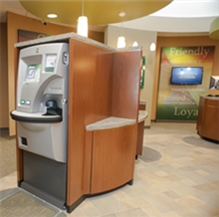 ATM's did not become mainstream until the early 1990's. Did you know this bank was one of 14 pilot banks in Iowa who brought ATM's on-line back in the Bicentennial Year of 1976? Over the years, we have brought you leading edge bank services such as debit cards, imaging, internet banking, mobile banking, etc. With the 2012 remodel, we continued our pioneering tradition by implementing some innovative new features. These include a self service coin counter, teller PODS and expanded security and sound suppression systems. Our goal with these additions is to enhance service, safety, security and your privacy.
Our Logo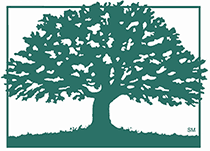 Our logo, an oak tree, symbolizes strength, stability and the roots we have planted in the communities we serve. Our logo was inspired by a live oak tree. As many of you may know, it is located on the north side of the IWV Road ½ mile west of the turn-off to Cosgrove in Johnson County. This "Lone Oak" took a hit when it lost a major branch in a June 1998 thunderstorm. Otherwise, it still maintains its almost perfect shape. Just like that oak, our Bank has the financial strength to weather past and future economic storms.
Our Financial Strength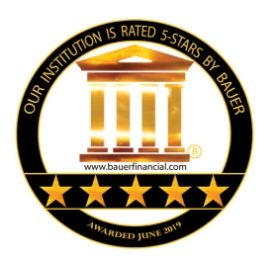 FTSB has been recognized for its financial strength when compared with other banks. BauerFinancial, Inc., a nationally recognized independent bank rating firm, analyzes the performance of all U.S. banks. FTSB has been recognized as a 5-Star rated bank (BauerFinancial's top rating) for over 30 years. According to BauerFinancial, only 3% of the nation's banks have maintained the 5-Star rating for this length of time. While we did not seek out this recognition, we humbly accept it.
The financial crisis that started in 2008 and continues to linger today has had no major impact on FTSB. The Board of Directors declined the bail-outs and other new-fangled government programs such as TARP (which were utilized by many other financial institutions). We did, however, take advantage of opportunities such as increased FDIC deposit insurance limits which benefited our customers. While we had "concerns", our financial strength enabled us to continue business as usual supporting the communities we serve by extending credit to farmers, businesses, home owners and consumers.
Our Staff
We are proud to have a first-rate staff at Farmers Trust & Savings Bank. Our Frontline and Drive-up Tellers and Retail Services staff have the important role of making every customer's banking experience a great one by creating a friendly, welcoming environment. The operations staff focuses on the important banking functions that occur behind the scenes such as accounting, data processing and maintaining accurate Bank and customer records. Our lending staff has helped many to use financial leverage for their benefit. Our loan officer's expertise and experience with all types of lending in a bank of our size is unsurpassed by our competitors. Our loan support staff has a high aptitude for timely follow-up and making the process simple. That is why so many customers use FTSB for all their lending needs (home, personal, ag, business).
Our Board of Directors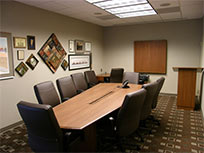 Our Board of Directors is an experienced, conservative yet progressive group who have committed the Bank to maintaining strong policies, prudent underwriting and responsible investment. Their service to the Board spans decades. Chairman, President & CEO John has set the tone and direction for the Bank since 1981. Directors Jon, Keith, Cindy and Jay have a vested interest in our communities as they are local citizens and successful in their respective businesses. Their guidance, advice and counsel have been invaluable. Under the leadership of John and the Board, the Bank has grown to become highly capitalized and consistently recognized as a high performing institution when compared to our peers in the industry. We are indebted to them for their service.
Thank You and An Invitation
If you are currently a customer of Farmers Trust & Savings Bank, THANK YOU! If not, we invite you to become one. Our staff is always available to help you. We continue to provide one-on-one personal service while offering the latest in convenient electronic banking technologies. To learn how you can benefit from these services, just explore our website or contact any one of our staff. They will put you in touch with the appropriate personnel.
We look forward to seeing and serving you...