Lost or Stolen Debit Card
If your card is LOST or STOLEN during non-business hours please call SHAZAM at (800)383-8000 or contact us at (319) 668-2525 during regular business hours.
If you realize your debit card has been stolen or misplaced, contact Farmers Trust & Savings Bank immediately. We can take the necessary steps to ensure your account is secure such as cancelling the card number or freezing your account. We will issue you a new debit card and authorize it for use.
In the event you find your old debit card or get it back after we have issued you a new card, destroy the old card.
Debit Cards
The SHAZAMChek card may be used for cash withdrawals, deposits and balance inquiries at any ATM. It has all the great features of a credit card – flexibility, safety and acceptance at millions of locations that welcome Debit MasterCard. When making purchases you may choose credit (and sign the sales slip) or debit (and enter your PIN). The transaction will be automatically deducted from your Farmers Trust checking account.
Our enhanced-security SHAZAMChek chip card features the following benefits:
Low initial card issuance fee.

No annual fees.

Privileged Status membership.
Picture It: Personalized Debit Cards
Personalize your debit card! Choose a picture of a loved one, a friend, a pet or your favorite vacation spot – it's Your Card and Your Style. Whatever means the most to you can be displayed on your Farmers Trust debit card, making it the favorite card in your wallet.

Creating a Picture It: Personalized debit card is simple.
Review Image Guidelines

Click "create my card" below to get started

Accept the Terms and Conditions

Upload your own photo and design your card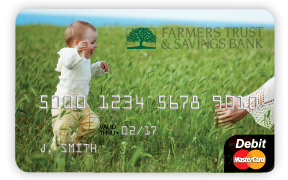 Requirements/Fees:
You must have an existing Farmers Trust SHAZAMChek card.
A $10.00 personalization fee will be debited from your account at the time of card production.

Your card will expire every 3 years and your account will be automatically charged a replacement fee upon renewal.
Privileged Status

Farmers Trust participates in the Privileged Status program to help our customers avoid paying surcharge fees. Look for the Privileged Status symbol and pay no surcharge fees.
No surcharge fees at Farmers Trust on-premise ATMs

No surcharge fees at Privileged Status Symbol ATMs