Access your accounts - Anytime, Anywhere.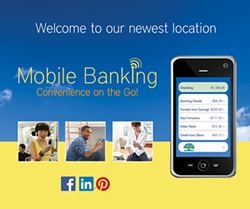 Mobile Express Banking is a FREE service which blends the security of Online Express internet banking with the convenience of your mobile device of tablet. Check account balances, transfer funds, pay bills, deposit checks and more - anytime, anywhere.
Get Connected
Choose from the following options (enrollment required):
For the best experience, download our Mobile Banking app to your smartphone and/or tablet

Use Text Banking from any mobile device with text messaging capabilities (Message and data rates may apply.)




Mobile App

(Smartphone or Tablet)

Text Banking

(Mobile device w/text messaging)

View Account Balances
X
X
View Transaction History
X
X
Transfer Funds Between FTSB Accounts
X


Transfer Funds Between External Accounts
X


Deposit Checks With Mobile Deposit
X


Pay Bills With Bill Pay Express
X


Send Money With Zelle®
X


Create and Receive Account Alerts
X


Locate a Nearby Branch Or ATM
X
X
Get Connected Today!
Mobile App
Download our mobile app using your mobile device's app store - search for "FarmersTrust". Then login using the same credentials you use for Online Express Internet Banking.




Text Banking
Logon to Online Express Internet Banking to enroll for text banking. Once signed up, simply text one of the commands to us at 99588. Your requested information will be sent by text within minutes. 
OPTION 1: Start Using the Mobile Express Banking App
You must have a valid Online Express internet banking Username and Password.

Download the Farmers Trust app from the App Store or Google Play.

Log in and get started enjoying the convenience of Mobile Express Banking.

OPTION 2: Get the App, Text Banking and/or Alerts:
Log on to your Online Express internet banking account.

Click on "Profile" menu in top right corner.

Locate the Mobile Banking Profile section and click "Enroll Now".

Enter the following information:
a. Select the Text Messaging and/or Alerts and click "Continue"
b. Select your Time Zone
c. Select the accounts you wish to access with Mobile Express banking
d. Assign a Mobile Banking Nickname to each account and click "Continue"
e. Enter your Mobile Phone Number and click "Continue". An activation code will be sent to your mobile device.
f. Enter the Activation Code you received and click "Activate"

Get started enjoying the convenience of Mobile Express Banking.

Mobile Express Banking Features
Mobile Deposit
With our Mobile Banking app, you can deposit checks directly into your account using the camera on your smartphone or tablet. Just follow these steps:

Select the "Deposit" tab on your Farmers Trust mobile app.
Enter the deposit amount and choose the checking or savings account you want it to go into.

Endorse the back of your check "For Mobile Deposit Only" and sign the back of the check.

Follow the on-screen instructions to take a picture of the front and back of your endorsed check with your smartphone or tablet camera, then submit the image to the bank for deposit.

Shred the original check after you can see the deposit in your account transaction history.
Your deposit will be securely delivered to us for processing. Funds will be available usually within one business day, just like any other deposit.
(Our Mobile App and Internet access are required for Mobile Deposit.)
Mobile Bill Pay
Pay your bills from anywhere right from your mobile device. Just select a payee from your existing list, enter the amount and payment date, and confirm. That's it! You can also view and modify pending payments. Mobile bill pay is available to all our online bill pay subscribers.
Zelle®
Zelle
is a convenient way to send money using your mobile banking app or online banking account. Whether it's saving you a trip to the ATM or taking out the guesswork of divvying up the lunch tab, 
Zelle
is a fast, safe and easy way to send and request money. Funds are sent directly to the recipient's account, and all you need is the recipient's email address or U.S. mobile phone number.
Click here to learn more about Zelle
.
Alerts
Our Alerts service monitors your accounts around the clock and uses text messaging, E-mail or online messaging to inform you of important account related events. For example, you can be notified when an electronic deposit or payment has been made, if a specific check has cleared or when your balance falls below a certain amount.
(Message and data rates may apply.)
Text Banking
Using any mobile device with text capabilities you can send a text command to 99588 and receive the requested information within seconds. Message and data rates may apply from your mobile carrier. The most popular text commands include:
Text BAL to view all Text Banking available account balances

Text BAL + "account nickname" for the available balance for that account

Text HIST for recent transactions for your default account

Text HIST + "account nickname" to receive transaction history for another account

Text HELP for assistance

Text STOP to discontinue Text Banking alerts